Walk in, Wash your dog, and leave the mess behind! It's worth every penny.
$20 per wash
Self Dog Wash Includes
Everything Needed to Groom Your Dog
•
An Apron for You

Easy Access with Elevated Tub
... Saves your back!
•
Choice of Shampoo (can be upgraded for special needs)
•
High-Velocity
Hair Dryer
•
Towel
•
Toothbrush
•
Toothpaste
•
Ear Cleaner
•
Ear Wipes
•
Cologne
•
Bandanna
Doggy-A-GoGo Customer Reward Card
After 4 Self Dog Washes, the 5th is FREE!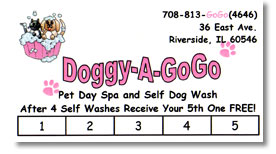 Our hours are flexible, so be sure to...
Call Us Today to
Schedule A Pet Self Wash Appointment
708-813-GoGo (4646)